Profiles of WICArch
The mission of this section is to profile women in computer architecture across many walks of our field, from [junior, senior] x [industry, academia].

If you would like to be profiled, would like to nominate someone to be profiled, or would like to write a profile, please let us know by wicarch-chair@acm.org
More Profiles
Natalie Enright Jerger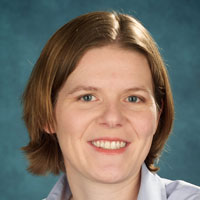 Dr. Natalie Enright Jerger is a force to be reckoned with, with a resume of a person many years her senior.  She is deeply committed to positively impacting our community on many levels – whether through teaching at the University of Toronto, where she the Percy Edward Hart Professor of Electrical and Computer Engineering, or through service to the community, such as being the Vice-Chair of ACM SIGMICRO, co-authoring a synthesis lecture on on-chip networks, serving as HPCA Program Chair, and of course, the thing we all need to thank her for, rebooting WICARCH in her role on the executive committee of SIGARCH.
Natalie's dedication to students and our community stems from her early inspiration to have deep impact on people's lives through teaching and mentorship.  From a young age, she watched as her grandfather, a baseball coach at Dartmouth, had deep and lasting relationships with his players for years after graduation.  Inspired, she wanted to have a similar impact on people's lives – but knowing that her athletic prowess was not at all like that of her grandfather's, her avenue for such impact was likely not through coaching sports.  Instead, she decided early on to be a university professor and held this goal even as she entered undergrad.  After realizing her enjoyment and aptitude for engineering, her way forward was set.
Part of her experience and commitment to bettering the representation of women in our field stems from her experience in grad school, where she was not uncommonly mixed up with other women in the field (a slew of truly awesome women in computer science – Drs. Dana Vantrease, Allison Holloway, Anne Bracy…).  She suspected that for some, they knew the odds – if you called a woman in the halls of her university Dana, you'd have a pretty fair chance of being right.  Even today, though you could definitely term her "famous" in our community, she still encounters people who say something to the effect of "Do you remember me?  We met at conference X," and she knows they must have her mixed up with someone else because she didn't go to conference X.
To make sure you know exactly who she is, I advise that you go to her Wikipedia page.  Yes, she has a Wikipedia page.  Our very own venerable Margaret Martonosi made it for her, and it is here that you can find out all sorts of fun, identifying facts about her.  The most important of which, beyond all her contributions to our field, is that John Cena is her cousin.  Yes, that John Cena.  So you see, Natalie is not the only force of nature in her family.
When Natalie is not teaching or herding cats in her various service roles, she enjoys baseball, a love of which she got from her grandfather, who not only coached but also played professionally, and art, a love of which she got from her mother, who is a bona fide artist. Back in college, when Natalie was considering her future, she actually considered pursuing art, but ultimately decided that engineering was at least as enjoyable and much more lucrative as a career choice.  Nowadays, art and making things is just a hobby.  When she had more time and less stress, she actually mixed her engineering and art skills by making stained glass, which required the use of her soldering iron.  Now that she's got so much going on and a toddler in the mix, large and messy setups are out of the picture, and she now just crochets stuffed animals for fun.
Sometimes when I talk to Natalie, I really wonder how she manages to do all the things she does.  So I asked her for a life hack that makes her life easier – and she settled on the fact that she doesn't bother with ensuring her yard looks good, nor does she bother ever brushing her toddler's hair (note to readers – I also never ever brush my children's hair.  Indeed, I never even brush my own hair).  However, I know for a fact that the inside of her house looks amazing.  Using the artistic eye she got from her mother, she has designed the renovation for multiple rooms in her home to get it the way she likes it.  So what does this tell you?  If I hadn't mentioned the inside of her house, you might have thought that the lesson is to not care about appearances and not bother with keeping them up.  But that's not quite it.  In the end, what we should all take away is that it's ok to pick and choose what you care about, put effort into those things, and then just really not bother with the rest.  And if that means an uncoiffed child in a gorgeous home with a messy yard, and an amazing career filled with being mixed up with other women and a Wikipedia page, if that's what makes you tick, then it's a life well lived.