Program Overview 
The Computer Architecture Long-term Mentorship Program (CALM) was launched by some committee members from Computer Architecture Student Association (CASA) in 2021. The program aims to help junior researchers establish and maintain a long-term mentoring relationship with senior researchers from academia and industry. We hope this program will provide additional resources to those new to the computer architecture community, and those seeking advice in their research projects and career developments.
CALM was first kicked off in 2021 with a pilot program during the 2022-2023 academic year. In this inaugural term, 38 mentees benefited from the kind and generous support of 25 mentors, and the feedback was highly positive.
We are very happy to announce the launch of our second-term mentorship program for the 2023-2024 academic year. We would love to see your participation!
If you're interested in participating, please fill out the corresponding form before Nov. 30th, 2023: 
If you wish to be a mentor, fill out the CALM Mentor Form.
If you wish to be a mentee, please fill out the CALM Mentee Form.
Mentees: We will release an updated form in early December with the option for mentees to indicate their mentor preferences. You will receive an email notification if you have already filled out the mentee form.
If you have any questions about what to expect, please check out the following article. 
Why Mentorship? 
We have all been through tough moments while pursuing a computer architecture career, and sometimes help from senior researchers in the field can be beneficial. By pairing junior students with senior mentors, students can benefit from the mentor's experiences of dealing with similar challenges. Guidance from outside the student's current research group or institution also brings a new perspective, and it is especially helpful for students who are looking for additional resources to achieve their goals. 
CASA has helped out running existing mentorship programs, including Meet-a-Senior-Students/Meet-a-Senior-Architects (MASA/MASS) and the JOBS workshop, which take place in top-tier computer architecture conferences. Other forms of mentorships exist in different communities, such as Students-at-Systems. CALM emerged from a need for long-term mentorship that provides continuing support for the students that differentiates from other organization-based or conference-based programs. 
Programs
Frequency
Format

Content 

Organization-based:

Student-at-System

, PLTea, etc.

Monthly/Bi-monthly

Group seminar / podcast

Focused topic (system / PL) 

Conference-based mentorship: MASA/MASS, OSDI/SOSP Mentorship

Annually, one-time

One-on-one 

Flexible topics

Conference-based workshop:

JOBS

,

PLMW

Annually

Group workshop

Focused topic  (job market, interviews, etc)

CALM

Long-term, frequency depending on the mentor/mentee

One-on-one or

Group

Flexible topics 
Students who participated in the first term of the program felt that long-term mentorship provided them with valuable high-level support and advice. Mentors also found that helping out younger people in the community is extremely rewarding. Most mentors felt great about contributing to the community and would like to participate again. 
What to Expect 
Eligibility
We welcome anyone in the architecture community to sign up! 
Mentors can be: 
Professors at universities

Senior architects working in the industry

Post-docs and senior Ph.D. students willing to offer advice to junior students. 
Mentees can be: 
PhD students 

Undergraduate and Master's students interested in pursuing research-based advanced degrees

Young professionals interested in becoming computer architects
Timeline
Now – November 30th, 2023: Mentor and mentee sign up 
December 2023: Matching process 
January 2024 – August 2024: Program running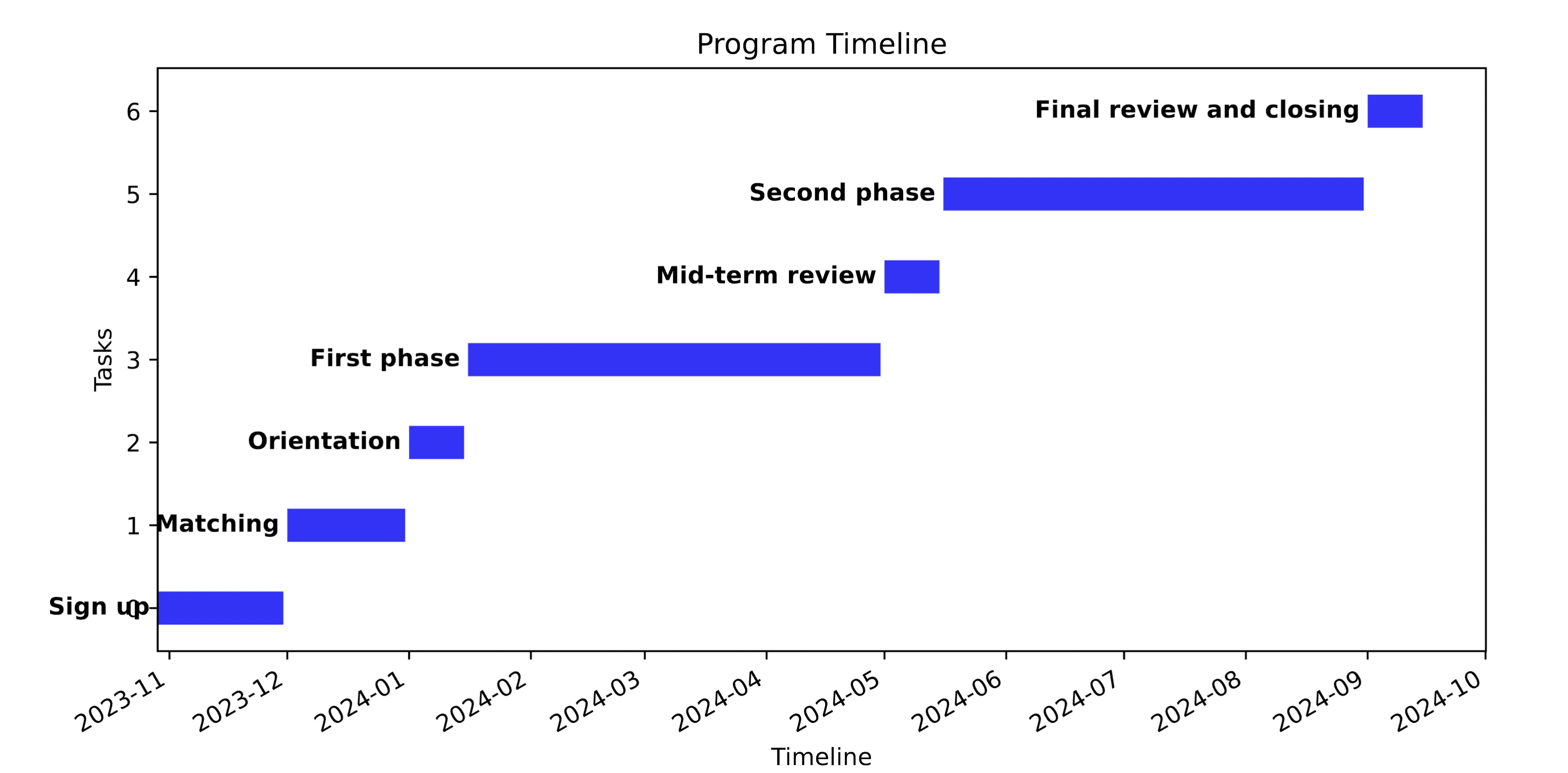 The exact time frame and meeting frequency can vary depending on the needs of the participants. The mentor and mentee sign-up sheets include the option of specifying preferred meeting frequencies. 
Participation in the mentorship program is completely voluntary. It is only beneficial to participate in the program if you feel it's helpful or rewarding. If your availability or goal changes during the program, feel free to let your mentor or mentee know. Please also feel free to contact us for assistance and alternative arrangements. 
Typical topics for conversations:
These are among the popular things that the mentees might need help with:
Graduate school applications and job searches

Career development 

Approaches to doing research

Insights on the distinguishing attributes of academic and/or industrial careers

Work-related issues, such as time management, networking, or life/work balance
Mentees are expected to take initiative during the conversation. The mentoring sections are for general advice, not for discussing niche details of ongoing research projects or asking for a favor during admissions or recruitment processes. 
Check-ins and feedback 
We will send participants surveys to collect data and help us improve the program. We look forward to hearing about your comments and suggestions for the program. We welcome feedback at any time – please send them to comparchsa@gmail.com.
Improvements
We always strive to make the program more accessible and beneficial to the participants. We acknowledge the feedback from mentors and mentees from the past cycle of the program, and here are some new things we will implement this year.
Staying in Contact
Some people have been experiencing late replies or are unable to reach their mentors or mentees. This mostly happens due to miscommunications or missing emails. We will try our best to keep the mentors and mentees in the loop. If you are unable to reach your mentor or mentee(s) after a few attempts, please contact us and we will assist you further or match you with someone else. 
Diversity & Inclusion 
We want to make mentorship opportunities accessible to everyone, especially those who might have less support or resources. Since our first program, we have been incorporating the needs of underrepresented groups into the mentor-mentee matching process. Mentors and mentees can indicate their preferences to be matched with someone with similar identities or experiences as theirs. 
We also strongly encourage people from all over the world to sign up for the program, especially those from underrepresented geographical regions. We are aware of the problems with smaller research communities in third-world countries and the lack of experts to advise good students. We hope that the mentorship program can somehow bridge the gap for students needing more resources. Following a current mentor's suggestion, we're also looking into the possibility of having an outreach to those underrepresented communities, such as organizing a virtual workshop for each region starting from places with active members. 
Orientation 
We are planning to organize an orientation for mentees at the beginning of the program to help students understand the expectations of the program. This is a great opportunity for mentees to learn how to get the most out of the mentorship program, and to raise any questions to the organization team. 
Acknowledgment
The CALM committee would like to thank the panelists who participated in the kick-off meeting to discuss their views on mentoring, all the pilot mentors and mentees who provided valuable suggestions, and CASA committee members for organizing the program. 
Reference and useful links:  
CALM Tips for Mentors / Mentees
CASA's webpage
About the authors:
Yueying Li is a 4th-year Ph.D. student at Cornell University, and a visiting Ph.D. at MIT. Her research interests include low-latency scheduling and efficient LLM serving cloud system.
Haiyue Ma is a 3rd-year Ph.D. student at Princeton University. Her research interests include hardware/software co-design for data movement and dataflow architectures. She has been helping out with CASA mentorship programs for the past year.
Disclaimer: These posts are written by individual contributors to share their thoughts on the Computer Architecture Today blog for the benefit of the community. Any views or opinions represented in this blog are personal, belong solely to the blog author and do not represent those of ACM SIGARCH or its parent organization, ACM.