We are happy to report another successful year for the SIGARCH Computer Architecture Today blog. In the past year, the blog has covered a wide range of topics — the word cloud below captures the popular tags. We are extremely grateful to the large number of contributors who keep the blog lively by making timely and interesting contributions.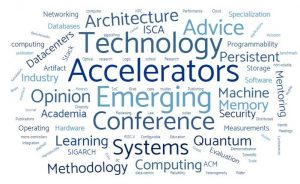 Each year, we like to refresh our team of regular contributors to accommodate our regular contributors' commitments and balance that with bringing in fresh new topics and avenues of discussion.  Reetuparna Das, Bobbie Manne, Keshav Pingali, Simha Sethumadhavan, Mark Silberstein, Steve Swanson, and T.N. Vijaykumar, all of whom have served on the team since its founding in 2017 are rotating out this year.  We thank them for their excellent contributions over the years!  
In 2020, we preserve and expand the big-tent nature of the blog. The team of regular contributors has 10 new members.  We thank them for volunteering their time and adding to the community's broader conversations on technical hot topics, mentoring, conference/lab culture, and more.  The current team includes:
Spyros Blanas, Ohio State University, on the blog team since 2018

Fred Chong

, University of Chicago, 2018

Emery Berger

, UMass Amherst, 2019

Mahdi Bojnordi

, University of Utah, 2019

Christina Delimitrou

, Cornell University, 2019 

Timothy Roscoe

,

ETH Zürich, 2019

Vijay Chidambaram

, UT Austin, 2020

Natalie Enright Jerger

, University of Toronto, 2020

Mingyu Gao

, Tsinghua University, 2020

Lisa Hsu

, Microsoft, 2020

José F. Martínez

, Cornell University, 2020

Michael O'Boyle

, University of Edinburgh, 2020

Dmitry Ponomarev

, Binghamton University, 2020 

Minsoo Rhu

, KAIST, 2020

Caroline Trippel

, Stanford University, 2020

Cliff Young

, Google, 2020
Blog traffic continues to increase every year.  Thanks go to the 55 posts from over 70 contributors in 2019.  To date, the most widely read set of articles is the one on diversity issues, published in 2017 and 2018.  We are very happy to note the impact these articles have had and continue to have; clearly, much more work remains on these difficult issues.  New technology innovations have also been hot blog topics in the past year — articles on cloud software, Cerebras, 3DXPoint, and of course machine learning were among the most widely read on the site.
To the many faculty teaching architecture courses: we encourage you to assign your class a reading list made up of relevant SIGARCH blog articles.  These articles are accessible, give your class a flavor for cutting-edge research issues, and may even remind them of their implicit biases.
We encourage the readership to reach out to us (click here) with contributions and feedback.  We have blindspots, we will make mistakes, and you should let us know.  In closing, we express our immense gratitude to the founding blog editor, Alvy Lebeck, for the scaffolding he established.  His stellar efforts have made our jobs effortless.
About the Authors: Rajeev Balasubramonian is a Professor in the School of Computing at the University of Utah.  Vijay Janapa Reddi is an Associate Professor in the Harvard John A. Paulson School of Engineering and Applied Sciences.
Disclaimer: These posts are written by individual contributors to share their thoughts on the Computer Architecture Today blog for the benefit of the community. Any views or opinions represented in this blog are personal, belong solely to the blog author and do not represent those of ACM SIGARCH or its parent organization, ACM.